IO
1995
Poster action in public space.
Poster: 70 x 100 cm, offset print, 200 copies.

The subject is a three-quarter profile of the artist, the letters "IO" across his face and "HICETNUNC" – the title of the festival – at the bottom edge of the picture.
Implemented as part of the HIC ET NUNC art festival: a presentation of contemporary art in four historic city centres in the province of Pordenone, Italy | catalog.


IO
1995
Plakataktion im öffentlichen Raum.
Plakat: 70 x 100 cm, Offsetdruck, Auflage von 200 Stück.

Das Sujet zeigt den Künstler im Dreiviertel­profil, das Gesicht versehen mit den Lettern "IO" und "HICETNUNC" – dem Titel des Festivals – am unteren Bildrand.
Realisiert im Rahmen des Kunstfestivals HIC ET NUNC: Präsentation von Gegenwartskunst in vier historischen Stadtzentren der Provinz Pordenone, Italien | Katalog.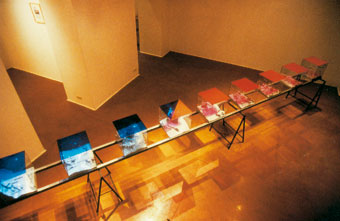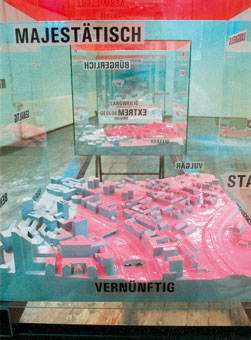 City/Country
(Nobody Knows Anymore)
1994/1995
Room installation consisting of eleven glass cubes with plaster models.
Cubes: glass, 60 x 60 x 60 cm; plaster models, painted in colour; adhesive foil, tinted; metal rails, multi-part, metal trestles. Total size: 735 x 60 x 103 cm.

Each of the lineary arranged glass cubes on metal rails raised on trestles features a model of a natural or man-made landscape on various scales. Viewed from the broad sides, two zooms merge towards the center: from the high mountain perspective to the detached house, and from the city perspective to the same. The multiple processes of constructing reality entail, in turn, a loss of reality, manifested in the monochrome gray design of the objects, tinted red (urban structures) and blue (mountainscape) from above by the foil on the glass cubes. Each glass box is assigned an average of thirteen adjectives: from "ROOTED IN THE SOIL", "PRIMITIVE" to "EMPTY", "BARREN" and "MEANING­LESS" to "PARADISIACAL", "EXCITING" and "SCIENTIFIC"


Statements | Galerie Cult, Vienna | March 4 – 9, 1996 | exhibition participation.
Headquarter | stairs of the Neue Galerie am Landes­museum Joanneum, Graz | April 24 – May 31, 1998 | solo exhibition | catalog.
The Last House | International architecture competition exhibition of Haus der Architektur (HDA), Graz | poster object, A0 format, installed in public space in Graz (Hauptbrücke) | steirischer herbst 1995 | exhibition participation.


Stadt/Land
(Keiner weiß mehr)
1994/1995
Rauminstallation, bestehend aus 11 Glaskuben mit Gipsmodellen.
Kuben: Glas, 60 x 60 x 60 cm; Gipsmodelle, farbig lackiert; Klebefolie, getönt bedruckt; Metallschienen, mehrteilig, Metallstaffeln. Gesamtmaß: 735 x 60 x 103 cm.

Die auf durch Staffeln erhöhte Metallschienen geradlinig angeordneten Glaskuben enthalten jeweils eine modellierte Natur- bzw. Kulturlandschaft in unterschiedlichem Maßstab, wobei sich, von den beiden Breitseiten aus betrachtet, zwei Zooms in Richtung Mitte verknüpfen: von der Hochgebirgsansicht zum Einfamilienhaus und von der Stadtaufnahme zu demselben. Die multiplen Konstruktionsverfahren der Wirklichkeit bedingen wiederum einen Verlust der Realität, sichtbar in der monochrom grauen Ausarbeitung der Objekte, von oben durch die Folie auf den Glaskuben rot (urbane Gefüge) und blau (Gebirgslandschaft) eingetönt. Jede Glasbox ist mit durchschnittlich 13 Adjektiven versehen: von "BODEN­STÄNDIG", "PRIMITIV" über "LEER", "KARG" und "SINNLOS" zu "PARADIESISCH", "ERREGEND" und "WISSENSCHAFTLICH".
Statements | Galerie Cult, Wien | 4. bis 9. März 1996 | Ausstellungsbeteiligung.
Headquarter | Stiegenhaus der Neuen Galerie am Landesmuseum Joanneum, Graz | 24. April bis 31. Mai 1998 | Einzelausstellung | Katalog.
Das letzte Haus | Internationale Architekturwettbewerbsausstellung des Haus der Architektur (HDA), Graz | Plakatobjekt im Format A0, installiert im öffentlichen Raum in Graz (Hauptbrücke) | steirischer herbst 1995 | Ausstellungsbeteiligung.